From August 2-16, MOV partnered with Ambassadors for Christ International to lead three MOV jumpstart discipleship conferences in Zambia in the cities of Ndola, Mufulira, and Lusaka.
Following the conferences in Zambia, we traveled to Mzuzu City, Malawi, to conduct our first conference in northern Malawi. After the conference in Mzuzu, we traveled to the city of Lilongwe to assist World Hope Ministries International in starting up their three-year theological training for church leaders in Malawi.
Here is our journal.
Brad
---
Friday, August 25
Final Conference, Malawi
I arrived back in Lilongwe to participate in a World Hope planning meeting on Sunday afternoon. This meeting, led by Pastor Wes White, Associate Director for East Africa, is held with aspiring council members. The Council is a group of local church leaders who agree to the ministry's requirements for hosting the WHMI Bible Institute and who make the decisions on future Bible Institute activities. All the potential members were Charles Mwase's Men of Valor-Malawi team, and five of these men were voted in. The institute launched the next day, and 55 pastors came.
MOV coordinated with Brad's former pastor, Dr Billy Ross, to bring this great program to Malawi, and many of the participants thanked us and the Lord repeatedly, expressing their supreme appreciation for now having the opportunity for accredited theological training. World Hope was very pleased with this turnout—calling it just the right number—to launch this three-year rigorous program. They are also starting a second institute in Blantyre, Malawi, on Friday.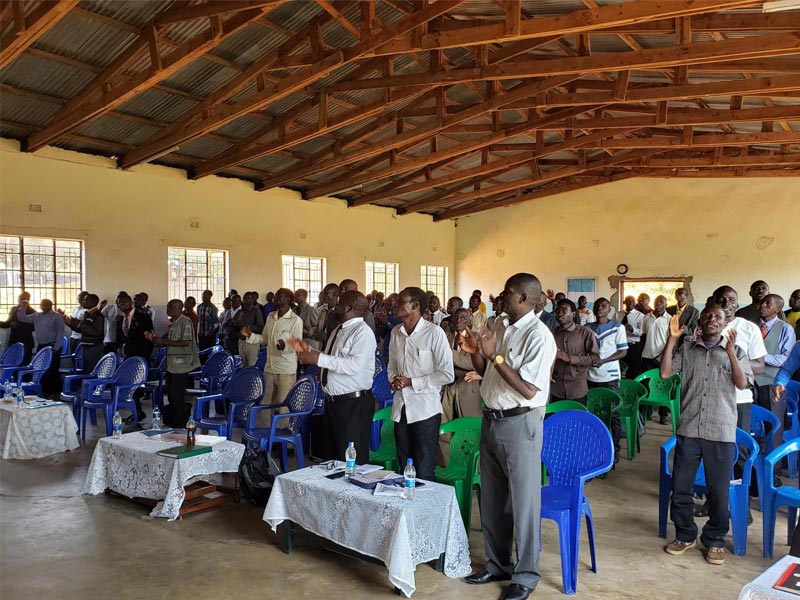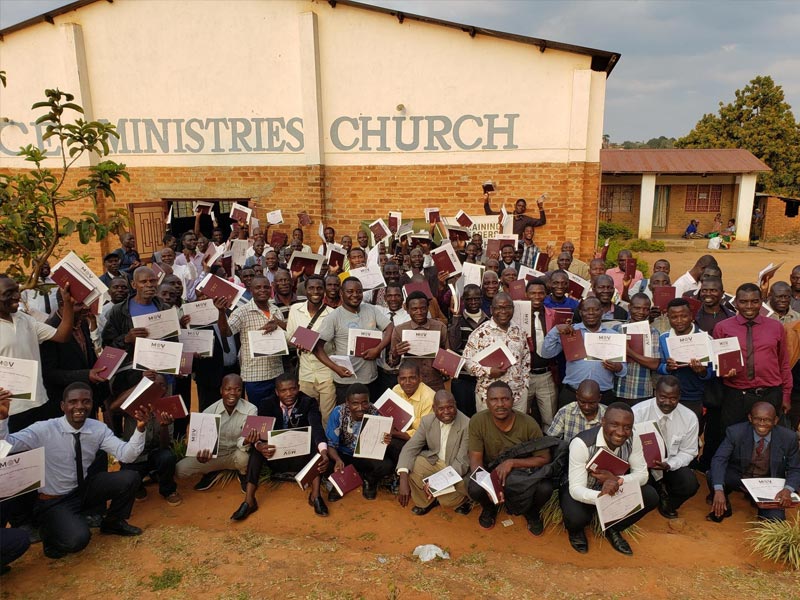 Charles and I also spent multiple hours together going over ministry and conference details and plans. On Wednesday, Charles took me to his home in a new developing area on the outskirts of Lilongwe. Charles's home is under construction, but they are living there while they await completion. It does not yet have electricity or running water, but Charles's property does include a garden, brick-making equipment and construction supplies, and…a temporary church building for the church he began two years ago!
After enjoying lunch with Charles's family, I went with him to see his small MOV office in a local shopping area as well as the land on which they plan to build a permanent, much larger church. Nearby is a soccer field. I mention this because Charles started a Men of Valor football (soccer) outreach ministry there two years ago and now has 50 young men in regular attendance!
We returned to Lilongwe to meet with Charles's team. The intent of this meeting from my perspective was to thank and encourage the team of 7 men who have conducted over 20 MOV conferences together since 2016. What an incredible blessing to listen to their continued enthusiasm and appreciation for the MOV teachings and the clear privilege they feel to be a part of the ministry in Malawi.
These humble servants reported that they are often asked by the churches who attend the conferences to come back and speak to their men's groups, using MOV materials. They commented that they receive reports on a regular basis via calls and texts from the pastors who attend the conferences about the positive impact on families and churches that are occurring as a result of ministering in their cities.
The team especially noted how the teaching on being a Husband of Valor repeatedly transforms marriages and causes men to be God's men of valor!
Over and over they told me how beneficial this teaching has been in the Malawi but also to them personally, affecting their own ministries, families, and themselves. They asked for additional Bible study materials and new Bibles—which is an amazing request—because in six years of doing multiple conferences and follow-up trips to conference sites, they never kept any of the Bibles for themselves! Of course I said yes!
Charles and his team are inundated with requests from more Malawian cities and communities. MOV's limited budgets to date have mandated no more than 3-4 conferences per year…but it looks like, as God provides the funds, we need to change that!
I was beyond words with thankfulness to God as I spoke with this team. They are responsible for planting seeds that have generated well over 1000 men who have come to Christ, spawned hundreds of MOV discipleship groups, and have caused churches to grow. The added men in their congregations not only attend, but also help with their church repairs and even with planting new churches. Who would have thought that all this would have happened!
"Now to Him who is able to do far more abundantly than all we ask or think, according to the power at work within us, to him be the glory in the church and in Christ Jesus throughout all generations, forever and ever" (Ephesians 3:20-21 ESV).
I leave Malawi and end this trip overwhelmed by the goodness of God. We've had challenges for sure, but we have seen tremendous blessing…with four MOV conferences that have reached over 400 men, and then the launch of World Hope Institute in Malawi.
We are pleased to have ministered with AFCI in Zambia and established a solid connection with World Hope. As the Lord leads, the doors are opening to many more countries and networks of committed, solid pastors and church leaders to hear the teachings of Men of Valor through these organizations. We believe that God will restore marriages, rebuild families, and strengthen churches and communities through His men of valor! Thank you for your support and participation in this ministry!
Mission accomplished. As you read this, I'll be on my 24-hour trip from Malawi to the US through the Congo, Ethiopia, and Ireland.
Brad
---
Saturday, August 20
Malawi Conference
This conference started before we arrived! Charles's teammates opened the conference on Thursday and conducted two teaching sessions and their related breakout discussion sessions while Charles and I were driving up to Mzuzu from Lilongwe.
This was a rough conference for me because I started getting sick just as we were driving to Mzuzu. I felt a little better in the morning and was able to present the Man of the Word. I asked to be taken back to the hotel after lunch because I was so tired, but they continued and presented two more sessions to finish the day.
Today, the third day, I was picked up almost 90 minutes late, but in the meantime, the team presented the message a Man at Work, and then did the talk on Legacy. Charles then presented Stand Together. Before he started, I took the opportunity to rehearse the priorities of a man, reviewing the lessons the men had heard and explaining their connection and importance.
I presented Why Men Don't Go to Church and learned which of those points were significant for their area and which were not. The 16 chosen discipleship group leaders were called to the front and Charles had me give them instructions on ways to conduct the groups. Afterwards they asked the other men to find one of the groups to join, and eventually every man joined a group. That was great! Charles did the final session, 3 Things Every Man Wants, and we ended by handing out Bibles and certificates.
There were between 98-110 men on each of the days, almost all of them church leaders. They were friendly, enthusiastic, energetic and very engrossed in what we they were hearing.
Please continue to pray for us to be in good health and to have safe trip. Please also pray for the men who attended conferences here and in Zambia, that their lives would be forever changed, and they would have great impact for God in their areas of influence.
Brad
---
Saturday, August 13
Conference 3, Day 2
Today, our team wrapped up the third and final MOV 2022 conference in Zambia. Our blended team of Christian brothers from America, Malawi, and Zambia, crisscrossed Central Zambia to teach and coach men. Altogether we taught the timeless biblical principles of manhood to about 300 men, sharing the Word of God, handing out certificates, and giving each man a Bible. We had expert help from an administrative team and mobile kitchen staff.
We thank Bishop Mark Kaoma, AFCI Zambia leader, and his team for their planning, coordinating, scheduling, and driving, allowing us to pull off two-day conferences in three locations in nine days! We praise the Lord for the travel mercies He extended us, the delicious food He provided us, and for the godly brothers in Christ we met.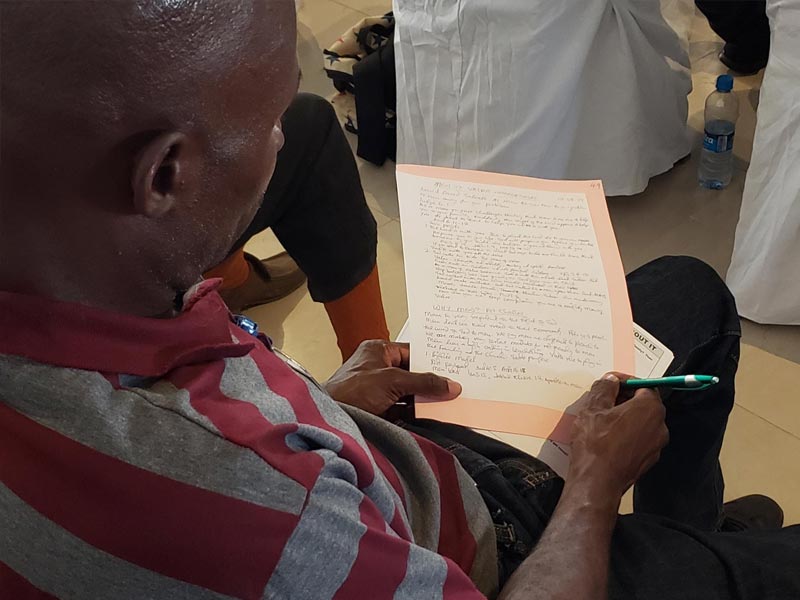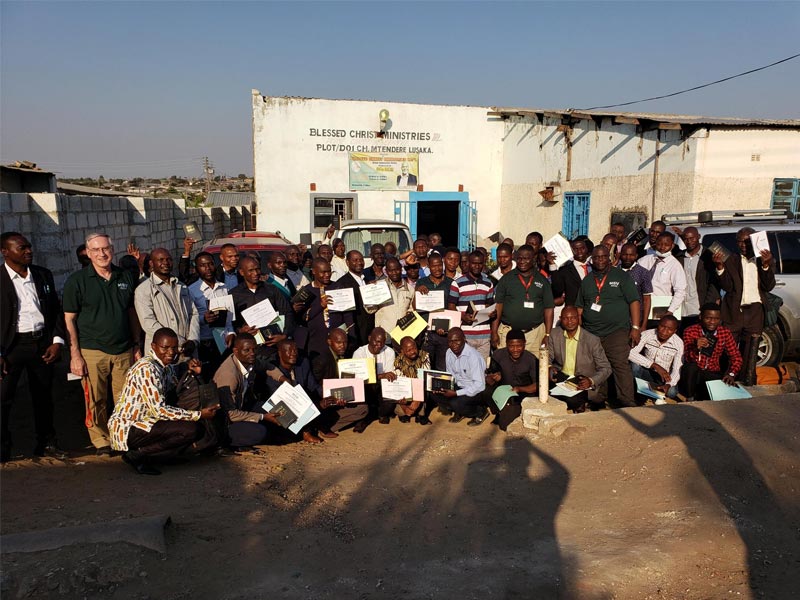 Today was a bit disjointed because Charles temporarily departed to get a COVID test for his return to Malawi. But with days of recent teaching under our belts, we flexed to minimize the impact and continued with a seamless conference. Charles returned to the conference to conclude the teaching with "Men of Valor Stand Together." He clearly loves the message and delivered it with a voice of thunder, receiving resounding applause multiple times!
The men warmly received all the messages, repeatedly thanking us up and down for our vision, for our ministry, and how it gave them new strategies to reach men. We launched 10 discipleship groups, and several additional men approached Charles to join his future Zambian team.
We finished out our day and ministry together by celebrating with Mark Kaoma and his support team at Debonair Pizza—a true Zambian treat! All three of us will be teaching in churches tomorrow morning.
We are ending the Zambia part of our ministry exhausted but pleased at what the Lord has done!
Brad Smith and Mark Wever
---
Friday, August 12
Conference 3, Day 1
After a very long drive yesterday and a late set up, we arrived in Lusaka for our final conference in Zambia. The conference site is in a difficult location to get to, which seems to be affecting our numbers, and we are also needing to adjust our sessions due to local scheduling. One more thing we discovered is that we will need to work around covid testing tomorrow for Charles's reentry into Malawi. I'll be able to fill in for him while he is away for several hours.
I (Brad) asked our co-worker Mark Wever, our newest MOV speaker, to give a report for today:
We opened our third, and final, two-day Men of Valor conference today in Zambia. Starting days ago in Ndola and then traveling to Mufulira and now Lusaka, Zambia's Capitol city, this conference marks the last time this MOV team will serve together during this trip. Brad will continue onto Malawi and work with Charles there, and I will return home.
We were warmly welcomed by about 65 men today. The men in attendance at Blessed Christ Ministries International (BCML), like the two previous locations, were hungry to hear the word of God. Bishop Edward M. Mbaso, the founder and overseer of BCML, whose church hosted the Lusaka conference, recognized the impact and importance of MOV. After lunch today, with only a quarter of the conference presented, he already expressed his appreciation for the event. He commented on the unique composition of the MOV team—a Malawian and two Americans—because his experience is that most missionaries come from America. He also recognized that men's conferences in Africa are rare. Pastors might attend conferences, but there are few opportunities for men who are not in the ministry to attend.
Although a little road weary, we press on toward the last day of our last Zambian conference tomorrow. May our service bring honor and glory to the King of all kings and the Lord of all lords, amen.
Mark Wever
MOV Speaker
---
Wednesday, August 10
Conference 2, Day 2
THE CONFERENCE
We had a few more men join us today. Mark W. did an excellent job talking on Father of Valor, and the men were so interested they asked questions about parenting for about 30 minutes.
Charles taught Men of Valor Stand Together, emphasizing that a key to a man of valor's success is a brother at his side to strengthen his hand in God and help him through the battles of life.
I spoke about Why Men Don't Go to Church. The men received the message sometimes with head nods, sometimes with laughter, but more often with silence. They commented that they had not thought of these things before and asked some questions. In fact, the men were eagerly engaged in all the breakout discussion groups. We clearly have spurred them to think.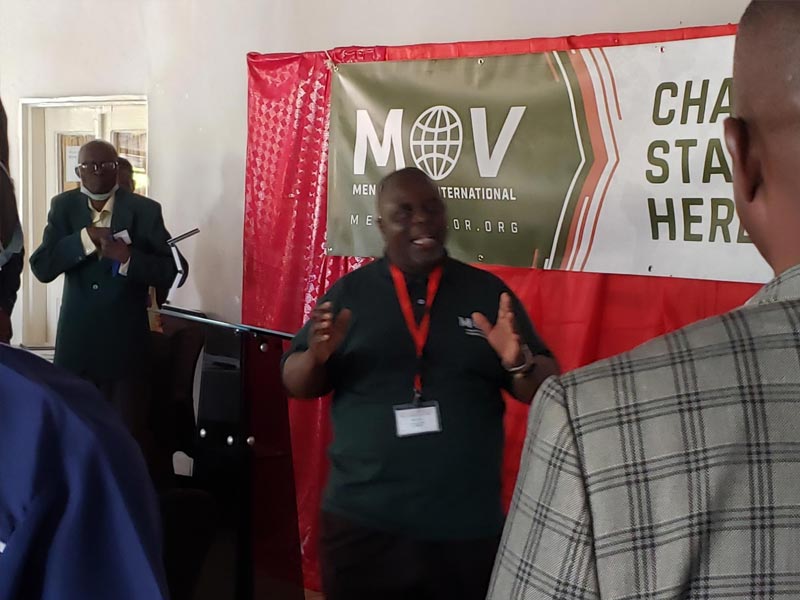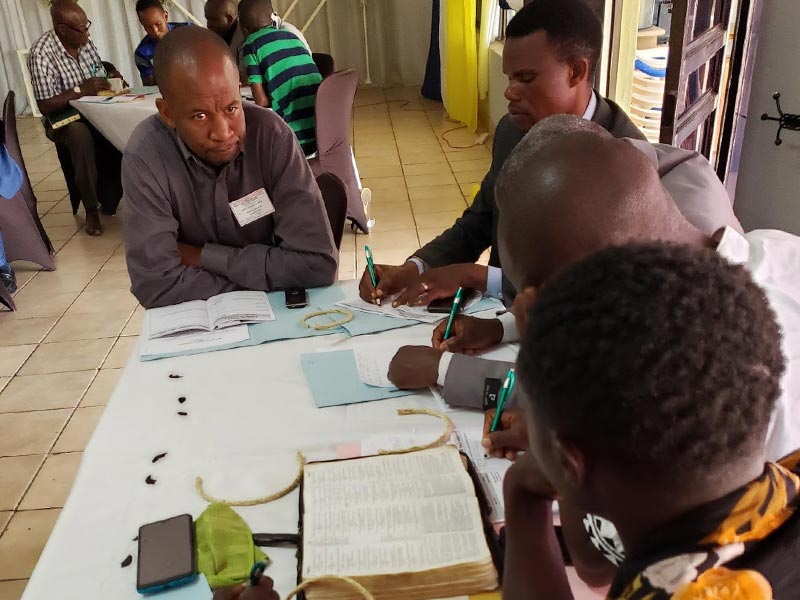 Charles ended by teaching The Three Things that Every Man wants and gave multiple examples about what is successfullty working in Malawi.
After a few boisterous songs led by Mark Kaoma, we had an extended Q&A time and held our closing ceremony. We started with dedication prayer and the launch of the 21 men's discipelship groups that had formed. (Earlier I had been able to give these men guidance on leading the groups.) We then handed out Bibles and Certficates of Completion to each man.
IMPACT
It's hard to describe the thanks that the men expressed to us. They LOVED the teaching; they were clearly MOVED by it; they want to implement what we said. They particularly liked the teaching on being a Father of Valor, emphasizing how important it was that as ministers, they not forsake their children (or their marriages).
Many men came to Charles to ask how they can work with him and if he can come soon to other cities in Zambia.
Our host Mark Kaoma thanked us for trusting him to organize and lead these conferences. He feels they have been powerful and had a great impact on the pastors, many of whom he has known for years.
The distric leader said that few if any other ministries have come to talk about reaching men, though many come to share ways to minister to women, youth, and children.
COMING UP
Tomorrow we have a long drive to Lusaka. We are leaving very early in the morning and will hopefully arrive early enough to set up for Thursday and get some much-needed rest. Please pray for us to put as much zeal and energy into the third conference in Zambia as we did for the first two.
Thank you for your prayers to date.
Brad
---
Tuesday, August 9
Conference 2, Day 1
On Monday, we traveled to our second location in Zambia, Mafulira—"The Place of Abundance". We met the host team led by the Pastor's Fellowship Director for the area, Bishop John Chande, discussed the plans, and helped set up the meeting room.
At 9:00 this morning, we started with 60 men, and 30 more came by mid-morning. Almost all were pastors and church leaders, all frustrated about how to reach and build men. Mark Kaoma led them in bositerous songs throughout the day and paced our teaching to meet their needs.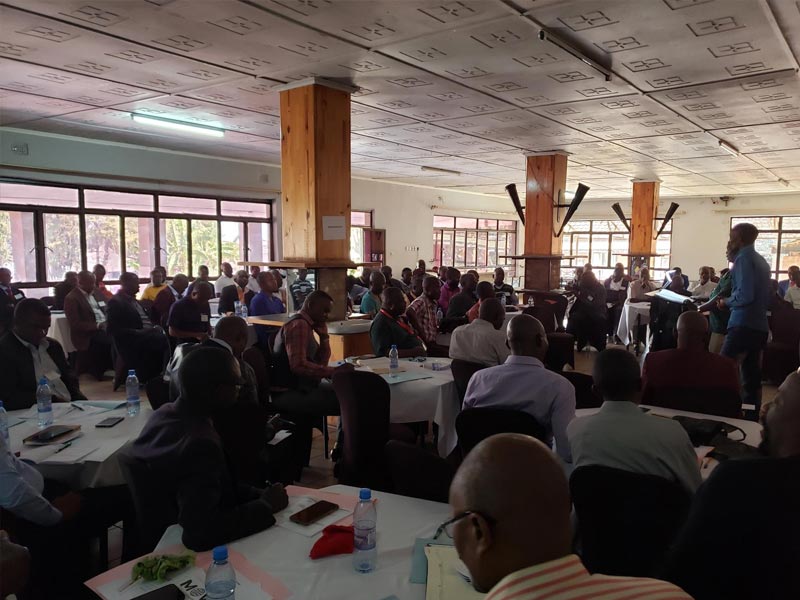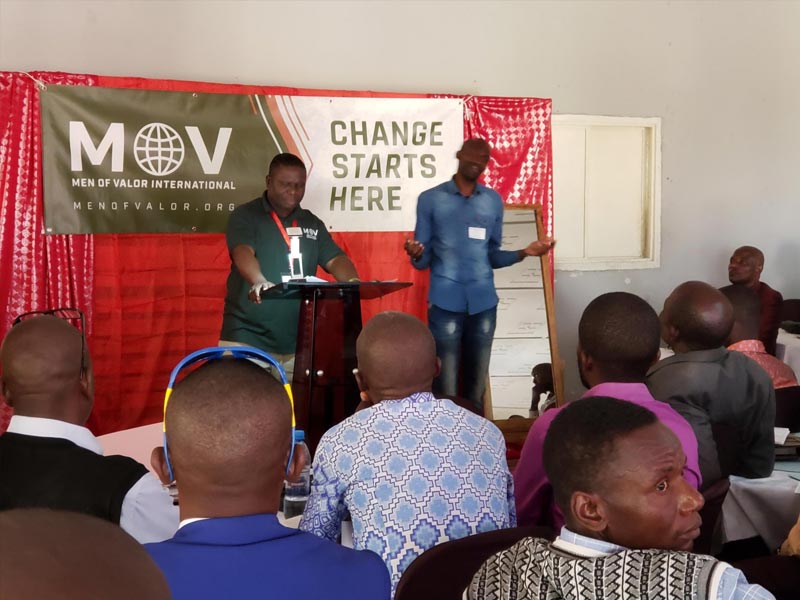 Brad taught the story of Gideon and Charles taught Why Men. Mark W. followed with A Man of Valor is the Man of the Word, and Charles ended with the Five Roles of a Husband of Valor.
Since we want to establish a Zambia team in partnership with AFCI, Charles taught a second message today and will do two again tomorrow. This gives Brad a bit of a break, but more importantly, helps the men to get to know Charles. Hearing the teachings from one of their own is far better than hearing it from us westerners!
The men actively engaged in the breakout session where they participated in and learned about our "Men of the Bible" studies. We talked about how they could do this with their men.
As part of the opening message at each conference, we give the Gospel. We had 10 unchurched men attending. We are still confirming, but it is believed that 5 of those men accepted the Lord today.
We have had a number of annoying setbacks and interruptions, both before and during this trip. Today was no exception. We know that Satan is not happy with what we are doing—even less so when men come to Christ!
Please continue to pray for us and for the men attending.
Brad
---
Saturday, August 6
Conference 1, Day 2
We were able to start a little earlier today. Mark K. led/facilitated with excitement and energy and a great song leader voice. He lives the joy of the Lord!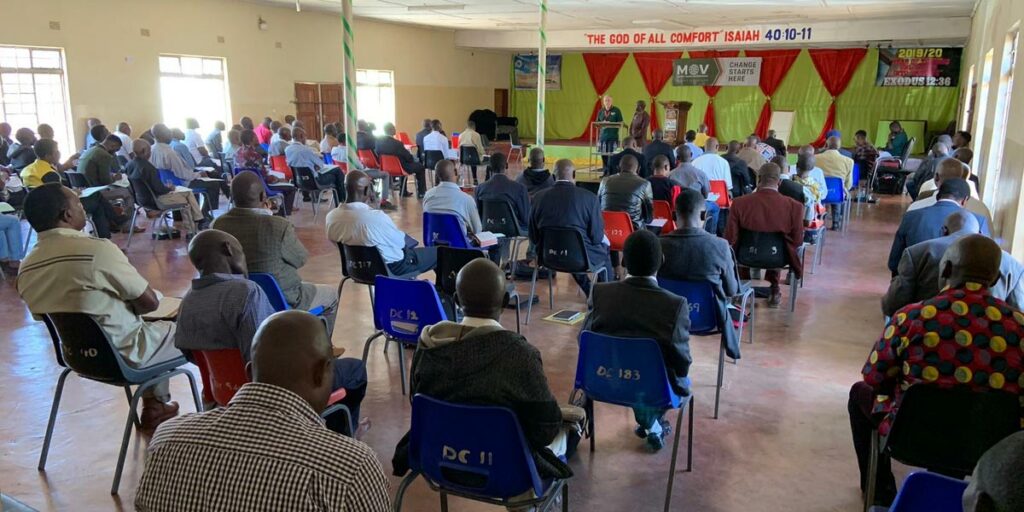 We had 114 men today, and the men sang and laughed and danced with exuberance and vigor. We taught Father of Valor, an abbreviated Work message, Standing Together, Why Men Don't go to Church, and an abbreviated Three Things Men Want. They "ate it up," agreeing with everything. In fact, they "received the messages with both hands," as Charles would say.
We did the final ceremony, with a dedication prayer, handing out certificates and Bibles (beautiful Bibles!), and taking group and individual pictures. We had a hugely enjoyable day. There were lots of commitments from the men to find another man to be a close friend, to start discipleship groups (20 groups formed), and to apply the teachings. We left completely wiped out!
We each teach in churches tomorrow morning. I am deeply blessed to have the privilege to be with these African men!
Brad
---
Friday, August 5
First day of first conference:
The first day of our conference was amazing, and 112 men came! Almost all of them were pastors and church leaders, and at least one man came from hundreds of kilometers away. They were all VERY responsive. Host Mark Kaoma did a great job of organizing and facilitating, and the singing he arranged was beautiful.
All three of us spoke. Everyone immediately loved Charles, and Mark W. was a natural at working with a translator, given that this is his first time. Our translators were superb, moving right with us. One of them was Christopher who had assisted us years ago when we came and later also organized the first MOV South Africa conference. It was wonderful to have that continuity of friendship and ministry.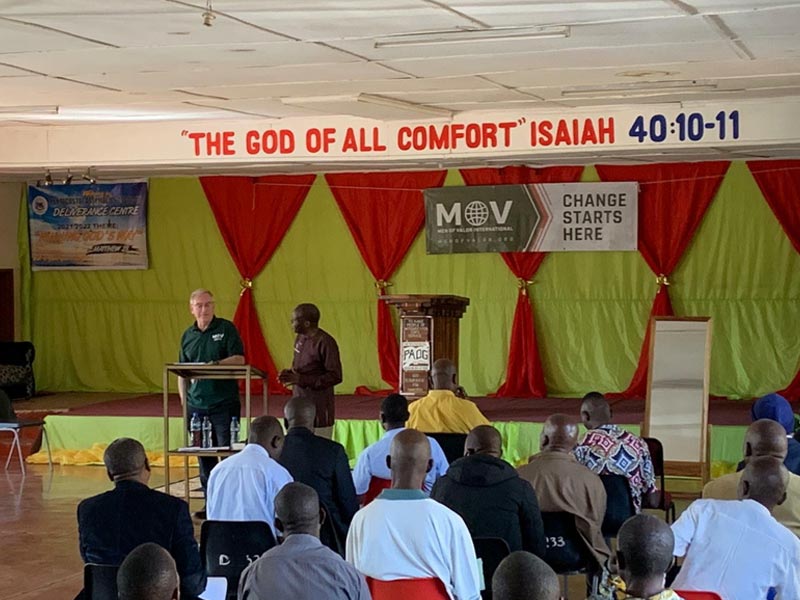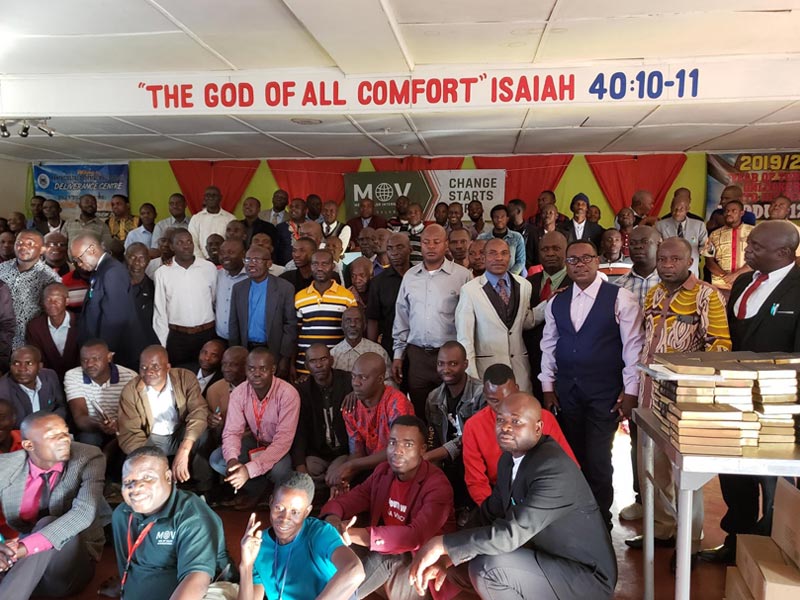 We had a lot of laughter today, many "Amens," and multiple comments of praise and appreciation. Men from roughly 100 churches in the vicinity of Ndola came, and the pastors' fellowship director said that they had not had a men's conference before. We did have a few unchurched men in attendance, and the pastors were thankful that I gave the Gospel, but don't know the response yet. One man did come to me during lunch and asked me to pray with him because he wanted to re-dedicate his life to Christ.
I had an AWESOME time, and REALLY enjoyed this.
Thank you for your prayers.
Brad
---
Thursday, August 4
Mark Wever, Charles Mwase, and I arrived yesterday in Ndola's beautiful new airport! All our luggage arrived!
Our hosts Mark and Esther Kaoma from AFCI met us at the airport, and we had a great time getting reacquainted and having an orientation about what to expect at the conferences. We are staying at a nice lodge that comes with breakfast and has other meals on site.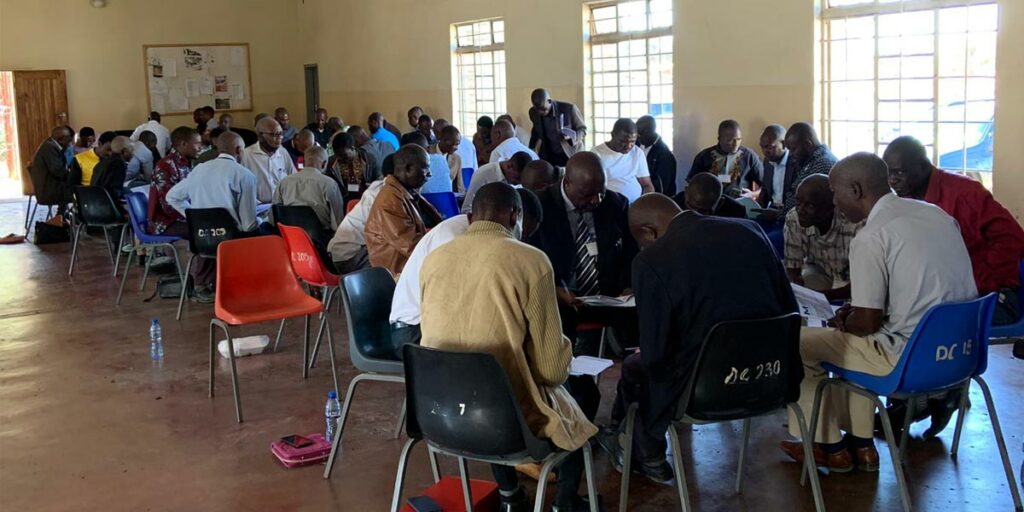 Mark Wever struggled to sleep last night. He's overtired since he didn't sleep on either of the flights, and so had a bad night. We're hoping tonight is better. I, on the other hand, took two heavy-duty sleep-aid pills and promptly overslept—I've been feeling pretty good today!
We visited the venue church and it is all set up and ready to go. Mark is hopeful that 100 men will come. He told the men to come by 8 am but doesn't expect them to be there until 9!
If you are reading this on Thursday, then it is about bed time for us here, and tomorrow morning we start conference #1.
Please pray for God's protection for the men—that nothing hinders them from coming at the last minute—and pray also for open hearts and minds to receive whatever it is God wants to say to them. And also that they come on time!
I'm happy to be back in Africa. The scenery, poverty, life hasn't changed in Ndola, but I am really liking being here!
Brad