Brad Smith, MOV Treasurer Luke Snavely, and Board of Reference member Pastor Steve Njenga joined together to conduct two conferences in Southern Africa.
This was not an easy trip to arrange! The week before we left, we found out the Ingwavuma conference had some organizational issues and would be reduced to a one-day conference. We quickly changed course, rearranging the speaking plans and adding one night in Durban where we would arrive. In the meantime, we had two frantic weeks trying to help Kenyan citizen Steve obtain his South African visa, and only heard 36 hours before departure that he was approved.
The day of our flight, the cab company missed our pick-up time. When I called, they said they were "still looking for a driver." So we went the Uber route. When he showed up, he refused to take us and all our luggage because his car was brand new and he "didn't want scratches." Fortunately, a very kind neighbor came to our rescue!
Over the Atlantic, the plane had to divert to avoid a cyclone. When we landed in Accra, we had a text message waiting from Steve, saying he would be delayed an extra day in Nairobi because he needed yellow fever documentation in order to fly. Good thing we had that extra day in Durban!
Because of the cyclone, we arrived late to Johannesburg and missed our flight to Durban. We were put on standby with six others for the day's last flight. Unbelievably, we made it on the plane…and picked up our car rental just as the office closed in Durban.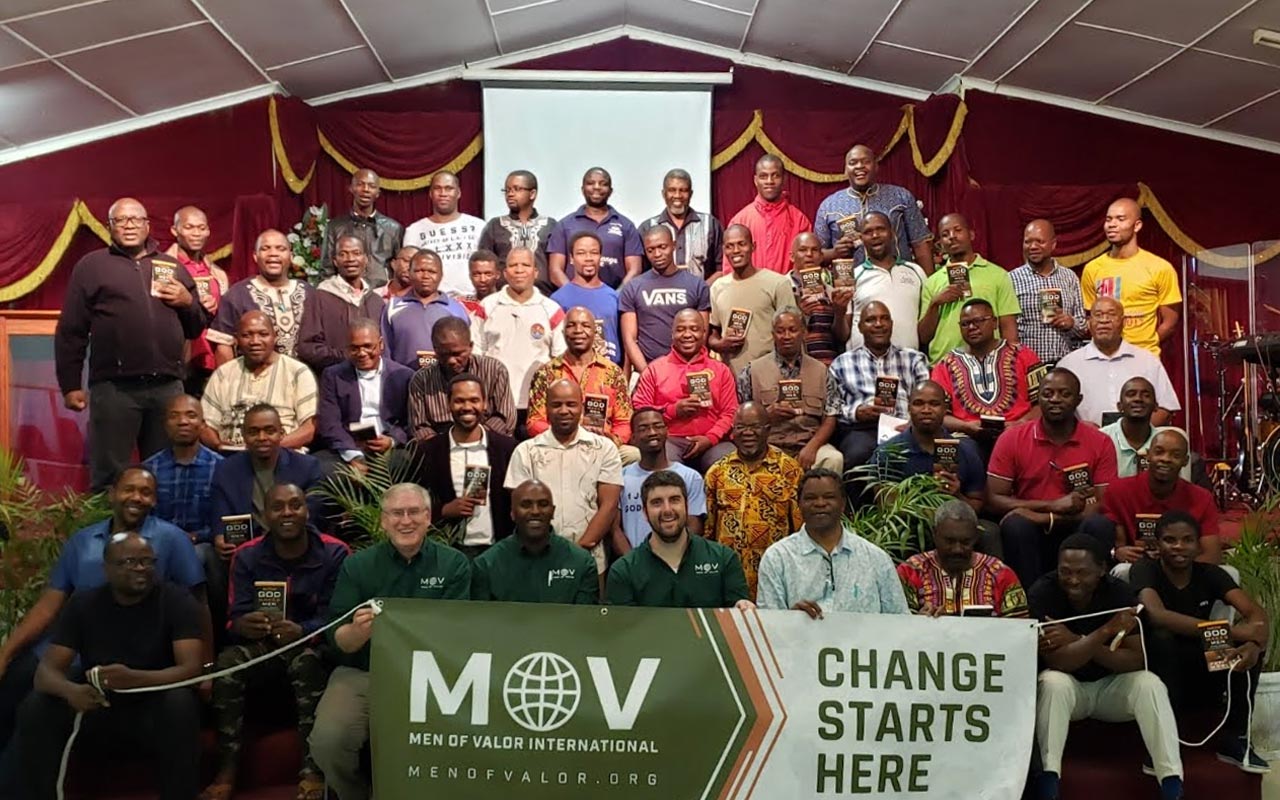 Steve joined us the next day, and we headed up the coast to the Ubombo Mountains in Kwa-Zulu-Natal.
What a crazy beginning; what evidence that if God wants something to happen, it will happen! We have learned over the years that God brings the right people and oft-times big results even with small gatherings or in spite of frustrating or changing circumstances.
What a crazy beginning; what evidence that if God wants something to happen, it will happen!
So, we conducted the first conference on Saturday in the rural hamlet of Ingwavuma. Turnout was low ‒ about 25 ‒ because of their organizational problems, but the men were enthusiastic and appreciative. Those who attended from several churches, including three who had recently started a "men's forum," asked if we can return for a full conference at a retreat/conference center next year. All the men committed to joining men's groups, a few of which launched that day, using the discipleship book and the new expanded notebooks we provided.
Our next conference in Mbabane, Eswatini, opened on Thursday with a pre-session for couples. Steve spoke about having a strong marriage. Friday evening I gave the two opening messages, "Men of Valor" and "Why Men" to about 100 men. We included one group breakout discussion time and still amazingly wrapped up by 9:30 p.m. I was told that men would start to leave before then due to the late hour, but no one did. Later I learned why: The leaders and laymen repeatedly referred to "Why Men" as the most important and impactful message they'd ever heard. Saturday, the three of us spoke on the "5 Roles of a Husband," "Father of Valor," "Man of Valor at Work," and "Standing Together." We mixed in a couple breakout times and a few hands-on activities, and the men committed to starting somewhere around 20 men's groups.
The Evangelical Church's men's team met us early on Sunday to discuss next steps, and they invited us to their annual denomination leaders' meeting in March of 2021. We look forward to working with these men again!